There will come one day a personal and direct touch from God when every tear and perplexity, every oppression and distress, every suffering and pain, and wrong and injustice will have a complete and ample and overwhelming explanation. –Oswald Chambers
What is providence?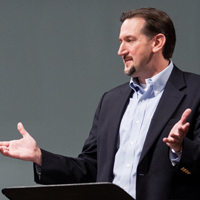 According to the Westminster Confession of Faith:
"God's works of providence are, his most holy, wise, and powerful preserving and governing all his creatures, and all their actions" (WSC Q11).
Put simply, God is sovereign over every aspect of life. He's ordained the very day your heart started beating; he's ordained the day it will stop. And he's ordained every day in between. Nothing in history happens outside of God's controlling hand.
When it comes to the Church, God is building his Kingdom here on earth, with Jesus Christ as the Cornerstone. We are but a small part of his expanding, universal Church. This is not to say we're perfect or that we have it all together. On the contrary, through the work of the Holy Spirit we are in the process of becoming more and more like Jesus.
As we move through the seasons of the year and through the seasons of life – through winter, spring, summer and fall – we submit to the providential hand of God, who is orchestrating all things to their proper end and purpose.
When it comes to our core values…
We believe in the inspired, inerrant, and infallible Word of God (the Scriptures of the Old and New Testaments)
We believe in the power and efficacy of the blood of Christ to be a propitiation for us (atoning for sin and reconciling us with God)
We believe the miracles recorded in Biblical revelation to be true (especially the incarnation of Christ and his resurrection from the dead)
We believe in a Reformed and Covenantal view of Scripture
We believe that growth and maturity happens best in a Spirit-led community (i.e. the church as the gathering place of God's children)
We believe and participate in local deeds of love and mercy internally within the church community and externally in the city
We believe in the proclamation of the Gospel locally and around the world through personal evangelism and world missions
The above statements are summary points of much broader subjects. If you have any specific questions, please get in touch with us through our contact us page.
Small Groups
Community Groups
We have a variety of small groups that meet throughout the month. Please contact our church office for specific groups and times.
Women's Morning Bible Study
Leader: Tara Weathers
Time: 9:30-11:00 am, Wednesdays
Location: The Church
Format: Bible Study and discussion
Childcare: available
Men's Morning Bible Study
Leader: Mark Weathers
TIme: 6:00-7:00 am, Thursdays
Location: The Church
Format: Breakfast, Bible Study and discussion